Worn from an early age, children's sunglasses are necessary especially when the sunlight is very intense, not only at the beach, in the mountains and at the lake, but also in the city.
Children's eyes are particularly sensitive to sunlight because the melanin produced by specialised cells called melanocytes is only activated after birth and finishes its work after about a year. Moreover, a child's delicate visual apparatus develops up to the age of 10, and during this phase the cornea, crystalline lens, tear film and all the structures of the eye are most vulnerable to the action of harmful sun rays and must be adequately protected.
How to understand which sunglasses to choose for your children
1. Certified sunglasses
The first factor to consider is the safety of the glasses that will be used by the child. Always check that the glasses comply with European standard EN ISO 12312-1:2013 related to Class I Personal Protective Equipment (sunglasses), UNI EN ISO 12312-1:2013/A1:2015 and Regulation (EU) 2016/425. Utilissimi glasses for children, for example, in addition to having these certifications, have also been tested and certified by CERTOTTICA of Longarone (BL), the Italian National Institute authorised and recognised for the certification of optical products.
2. Polycarbonate lenses with 100% UVA/UVB protection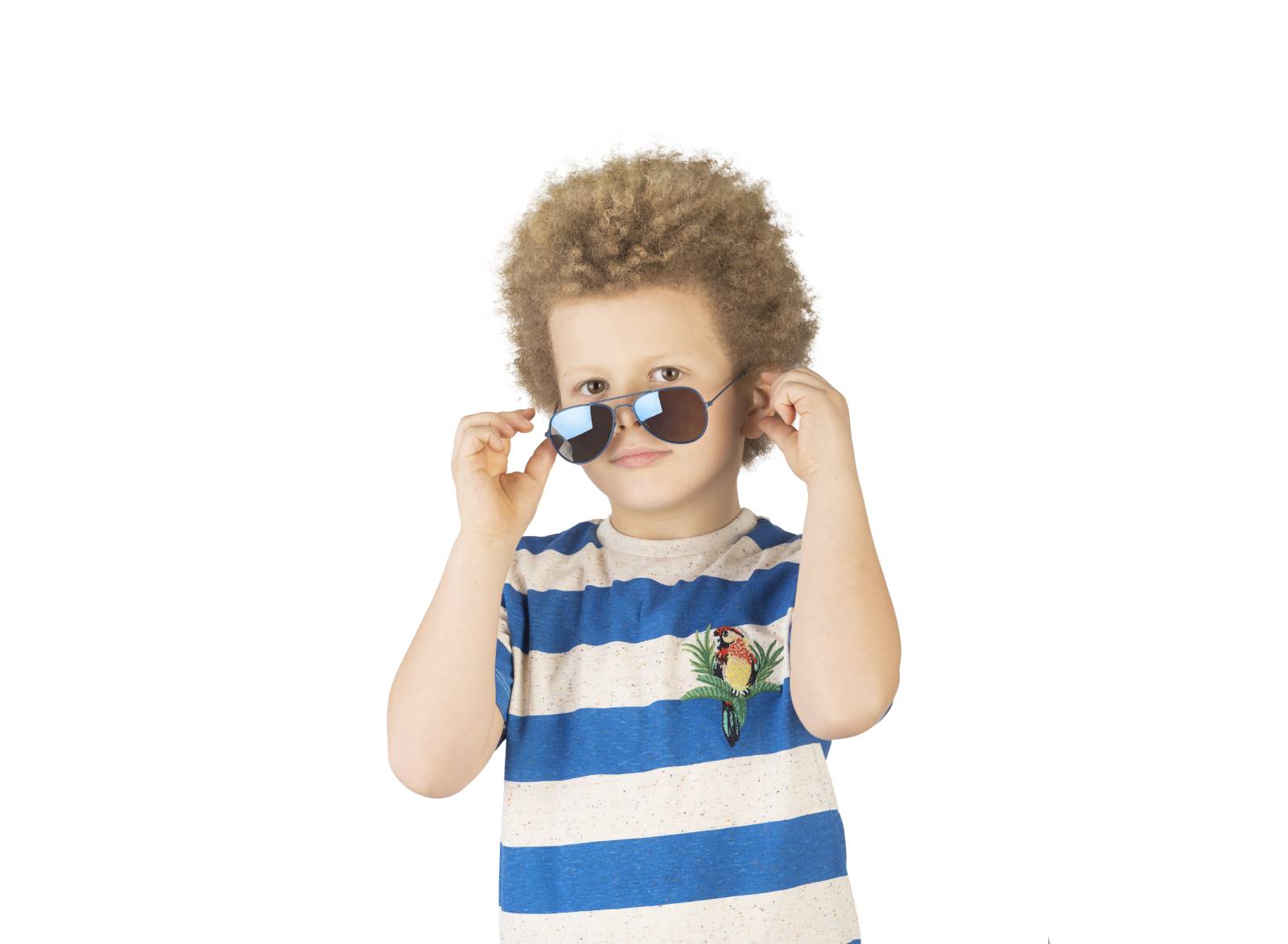 Another important factor is the material and quality of the lenses. The suggestion is to choose sunglasses with polycarbonate lenses, the same polymer used to make corrective ophthalmic lenses for prescription glasses. An unbreakable type of lens that offers good scratch resistance. The category and level of protection should also be checked: children's glasses rated as category 3 providing 100% protection against UVA and UVB rays are to be preferred. These are the best choice for protecting your child's eyes against the sun's harmful rays.
3. Children's glass frame material
The three key words when it comes to children's glass frames are: durable, hypoallergenic and soft. The advice is to opt for polymer frames that ensure robustness, elasticity and softness in contact with the skin. Check that the materials are free of allergy-causing agents and coloured with totally non-toxic paint treatments, as is the case for children's sunglasses from Utilissimi.
4. Possibility of mounting polarised lenses
Attention, this may seem like a small detail, but for children it isn't. In fact, sunglasses with polarised lenses are particularly suitable for children with delicate eyes as they offer sharper, clearer vision and reduce eye fatigue caused by annoying glare from horizontal planes such as lakes, seas, sandy expanses and snow-covered surfaces. Polarised lenses also provide 100% protection against UVA/UVB radiation, and thanks to the category 3 filters used absorb between 82% and 91% of visible light (light protection and excellent vision). You can learn more about this topic here in our article on polarised sunglasses.
Utilissimi's Ciao collection, colourful and fashionable design from 0 to 6+ years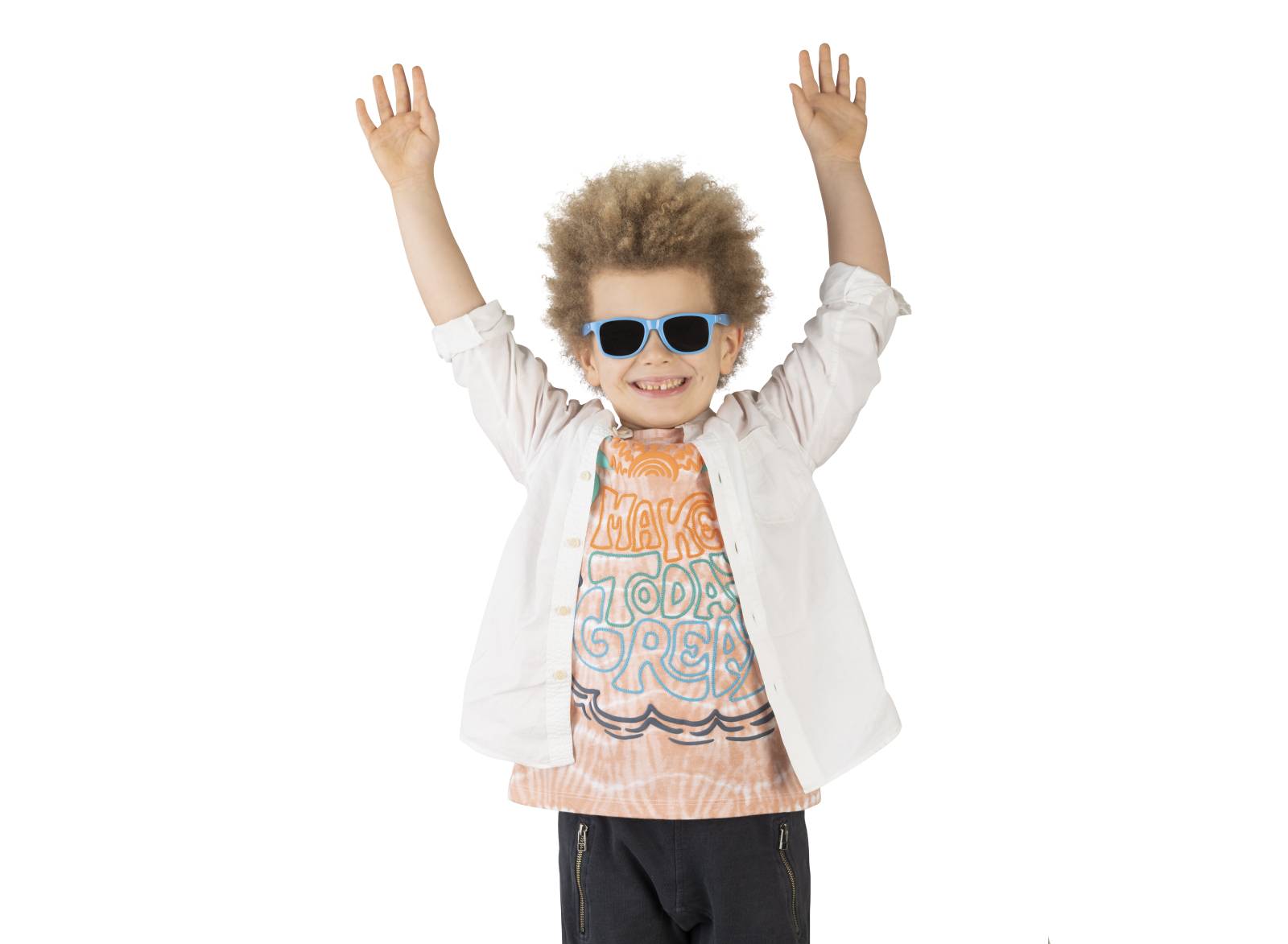 Utilissimi's sunglasses have all the features you should look for in a pair of children's sunglasses: ergonomic wraparound form specifically designed for small faces, comfortable fit and safe, certified frame and lens materials. Moreover, the colours and patterns available are designed to make it easier and more fun for children when they have to wear them to protect them from the sun.
Explore the line of children's sunglasses with your child and have fun choosing the style they like best.