How many times have you wanted to read something but couldn't remember where you put your reading glasses?
Reading glasses are an indispensable tool for many people, especially as age advances and near vision begins to weaken. All presbyopia glass wearers also know how easy it is to momentarily lose their reading glasses, usually just when they need them most, or to break the temples during one of the frequent take-offs and put-ons.
This is a minor inconvenience for those who use reading glasses to read while relaxing, but it's a big problem for those who need reading glasses for work. Lawyers, pharmacists, plumbers, office workers, electricians, tailors, teachers... these are just some of the professionals for whom a practical and convenient reading glass design is essential.
Neck hanging glasses with magnet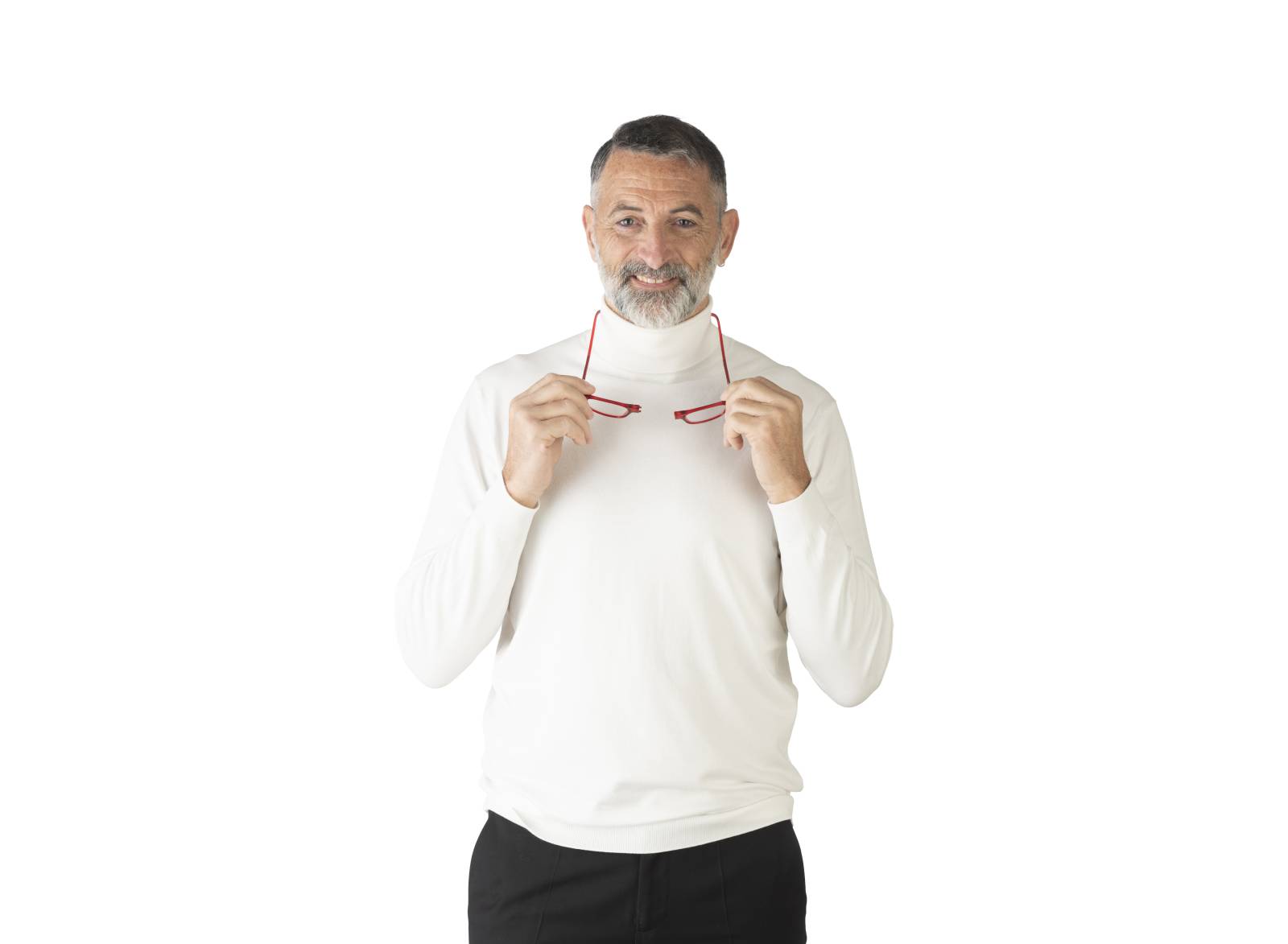 A very useful solution for those who use reading glasses for work is the frame with bridge magnet that hangs around the neck. With these glasses there's no need to take them off and risk forgetting them somewhere, because when you're not using them they hang around your neck.
 Let's take a closer look at the benefits of choosing a pair of reading glasses with a magnet.
Reduced risk of misplacement: as mentioned above, thanks to the temple that wraps around your head and the front magnet the glasses hang from your neck, eliminating the need to remember where you put them. Moreover, the use of magnets allows the glasses to be attached to shirt lapels or other metal surfaces, further reducing the possibility of losing them.

Breakage prevention: the flexible yet durable temples are designed to withstand daily wear and tear and reduce the risk of breakage caused by frequently putting the glasses on and taking them off. Furthermore, the magnet in the centre of the lenses facilitates the opening and closing of the glasses, avoiding stress on the hinges that could lead to damage.

Comfortable to wear: wearing the reading glasses with magnet and wraparound temples is extremely comfortable. The adaptability of the temples guarantees a pleasant reading experience without the hassle of having to adjust them constantly.

Versatility: the reading glasses with magnet and wraparound temples are suitable for a variety of situations, from the office to reading at home and outdoor fun. Thanks to their innovative design, these glasses can be worn at any time and in any situation, without fear of losing or damaging them.
Utilissimi Track glasses
Practical, colourful and innovatively designed. In one word: Track, the reading glasses with magnet from Utilissimi which, thanks to a central magnet on the bridge, open and close with a click.
Their adjustable temples provide an optimal, comfortable fit for whoever wears them, while the fork on the bridge prevents the magnet from slipping during closing, making it quick and easy. 
When you don't need them, you can leave them hanging from your neck ready for the next time, and you can choose to close the two halves of the front inwards. This is very useful if you use them at work and risk getting them dirty.
Comfortable, safe glasses
Like all Utilissimi glasses, the Track style also complies with European standards in terms of material safety and lens quality. It has undergone structural and allergological analysis and was verified at CERTOTTICA in Longarone (BL), Italy's only authorised and recognised national institute for the certification of optical products.